Shopping Cart
You have no items in your shopping cart.
BEWI DOG BASIC Dry Food 15 Kilogram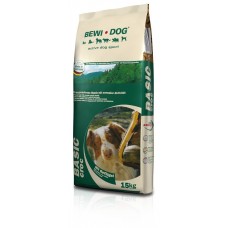 Производитель:
BEWI DOG
Модель:
מזון יבש 15 ק"ג BEWI DOG BASIC
Наличие:
Есть в наличии
Цена:
₪239.90
Без НДС: ₪239.90
Basic Menu uniqueness is defined by its moderate, carefully calculated fat and protein content that is specifically designed for the nutritious needs of the dogs. Basic Menu supplies your dog with all of its required nutrition. BEWI DOG® Vital Complex delivers a smart dietary supplement for your dog that goes beyond any regular dog food. Lecithin, brewer's yeast, saturated fatty acids and special vitamins ensure healthiness and prolong activity. The high quality of the meat products and the wonderful combination of vegetable fibers result in extremely tasty dishes that promise optimum benefit for the eater. Moreover, the fibers help regulate intestinal activity, and reduce fecal cubage. Shiny coat of fur, healthy skin and vitality are straight results from feeding your dog with Basic Menu. Main Usages: Regular activity level (companion dogs and other active dogs in moderate activity). Product Properties: • Moderate protein content • Optimal ratio between the protein and energy for a regular activity level. • A rich supply of vitamins and essential elements that ensure ideal fitness and vitality. Ingredients: Corn chips, wheat, bone flour, rice, brewer's yeast, vegetable oil, vegetable chips, chicken fat, sliced turnips, D- calcium phosphate, starched flour, dried chicken liver, table salt (NaCl). Recommended: Soak in hot water. Provide fresh drinking water at all times. Table below presents average nutritional values of adult dogs with normal activity levels. Number of correct feeding is best measured by examining dog's weight regularly.