Shopping Cart
You have no items in your shopping cart.
H.S. Prong Collar Large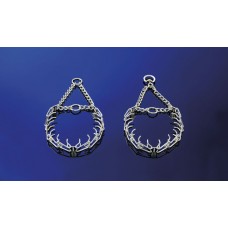 Производитель:
DUDI
Модель:
1840
Наличие:
Есть в наличии
Цена:
₪99.00
Без НДС: ₪99.00
The H.S Prong Collar was designed and developed in order to improve and achieve a higher level of training and discipline.
The way that the prongs are designed allow limited tightening and immediate response reaching immediate training results.
The collar can be worn inside out (in order to protect the dog's neck from the prongs) for daily use .
You can add and remove pieces of the collar as needed.
Warranty for the dog's life (except for rust).
**In order to prolong the life of the collar, it is advisable not to put the collar or your dog when visting the beach