Shopping Cart
You have no items in your shopping cart.
BELCANDO FINEST LIGHT Dry Food 12.5 Kilogram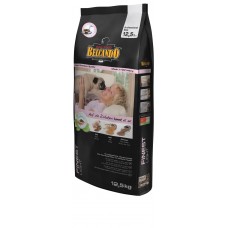 Производитель:
BELCANDO
Модель:
מזון יבש 12.5 ק"ג BELCANDO FINEST LIGHT
Наличие:
Есть в наличии
Цена:
₪279.90
Без НДС: ₪279.90
Rich duck meat in a savory sauce with easy to digest rice, are the main components of this reduced-calorie food.
Older dogs or dogs with a tendency to obesity will especially enjoy this BELCANDO Finest Light delicacy without remorse.

An especially healthy meal for sensitive or older dogs.

Benefits:
Pure pleasure without regrets! Calorific value reduced by 20% compared to the Finest Croc
Sauce: When mixed with hot water, the patties are instantly coated with a tasty sauce.
Particularly healthy for sensitive or adults dogs, thanks to the easily digestible carbohydrates (rice, potatoes) and oat bran.
Low levels of protein, phosphorus and sodium help metabolism and various body organs (kidney, liver)
strengthens the natural immune system of household and sensitive dogs.
Yucca extracts ties between the materials in the process of metabolism in the colon, therefore reducing the unpleasant odors that your dog distributes.
Flax seeds contain high levels of omega-3 fatty acids. Toghter with Brewer's yeast, lecithin and linoleic acid, healthy skin and glossy coat is a reality.
Particularly important for older dogs: a natural protection for the cells with pickled black grape seed strengthen the cardiovascular system and blood vessels. For Small dogs, heart disease and blood vessels are the major causes of death.

Components:

Chicken (dry, minimum 10% Duck), rice, corn, potato, peeled oat bran, minced herring, grape seed (oil-free), ale, carob, beet fiber, poultry fat, vegetable oil, chicken liver (hydrolysed), phosphate two - Sydney (dicalcium phosphate), sodium chloride, pregelatinised starch, scarbohydrate from fruit sugar
( a single fruit used) – monosaccharide, yucca extract.

Recommendation:
for overweight dogs, adult dogs of small breed and medium sized dogs.

70% of the total animal protein proteins, of which - 30% duck, 30% chicken, 10% herring