Shopping Cart
You have no items in your shopping cart.
PRO PLAN Puppy Lamb & Rice 15.4 Kg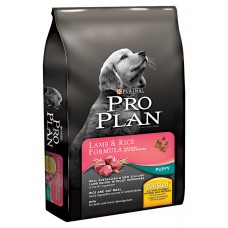 Производитель:
PRO PLAN
Модель:
מזון יבש 15.4 ק"ג לכלב גור - נתחי כבש PRO PLAN
Наличие:
Есть в наличии
Цена:
₪299.90
Без НДС: ₪299.90
(Pro Plan Puppies of all Breeds (lamb and rice
Registration Number 1459

Want to protect your puppy as his mother protected him??
Extra beef colostrum to improve immune system efficiency
- Extra DHA (also found in breast milk) to improve vision and ability to learn and be trained.
- Contains rice of high digestibility for maximum absorption of food.
- Real lamb as its first ingredient from New Zealand and Australian raised without hormones.
- Combination of high quality protein, antioxidants, omega 3 and vitamins for optimal balance and activity of the immune system of the dog.
- The right amount of fat and calories help to dog maintain his ideal weight.
Guaranteed Analysis Percent
Protein 28% (min.)
Fat 18% (min.)
Cellulose% 3 (max)
Moisture 12% (max)
Calcium% 1.1 (min.)
Phosphorus 0.8% (min)
Ash 6.7% (max)
Salt 1.37% (max)
Calorie content kcal / kg 3868 kg JNF
433 kcal / cup feeding (112 g)
Ingredients
:
Sheep, infusion of rice, flour, chicken scraps, corn gluten meal, corn, oats, animal fat protected by a mixture Tokofrolim (natural source of vitamin E),
Corn germ flour, oatmeal, egg powder, fish meal, dried beet pulp, natural flavor, fish oil, salt, potassium chloride,
Calcium phosphate, choline chloride, cattle colostrum powder, calcium carbonate, vitamin E, zinc sulfate, ferrous sulfate, manganese sulfate, niacin,
Vitamin A, calcium Fantotnat, Thiamine Mononitrate, Copper sulfate, garlic oil, riboflavin, vitamin B12, pyridoxine hydrochloride, acid
Folate, vitamin D3, calcium Iodat, biotin, sodium Bisolapit Mndion complex (source of Vitamin K1 activity), selenium.