Shopping Cart
You have no items in your shopping cart.
Natural Choice Dry Food for Adult Dog Large Breed 13.5 Kilogram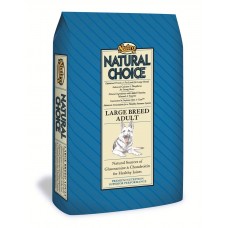 Производитель:
NATURAL CHOICE
Модель:
מזון יבש 13.6 ק"ג לכלב בוגר גזע גדול Natural Choice
Наличие:
Есть в наличии
Цена:
₪239.90
Без НДС: ₪239.90
Special formula for adult dogs of large breed with regular activity level.

* Dry, wholesome, rich and balanced meat for adult dogs of large breed, based on lamb and rice. All ready to serve.

* Provides enhanced protection based on natural antioxidants, strengthens immune system health.

* No preservatives and no artificial colors.
*Contains optimal levels of protein and fat to maintain muscle mass and prevent obesity.
* A balanced diet consisting of real meat as No. 1 ingredient.
* Enriched with glucose and chondroitin for a healthy pelvis, bones and joints.

* Enriched with linoleic acid to improve the look of fur and skin health.
Ingredients

Dehydrated poultry meat, rice powder, flour, corn gluten, wheat flour, rice bran, chicken, chicken fat (plus antioxidants Tokofrolim, a source of Vitamin E),
Beet pulp, natural flavor, soybean oil (extra antioxidants Tokofrolim, a source of Vitamin E), Sunflower Oil (plus antioxidants Tokofrolim,
Source of vitamin E), potassium chloride, salt, egg products, dried kelp, choline chloride, taurine, vitamin E, zinc, iron, vitamin C, biotin, copper, niacin,
Iodide of potassium, vitamin A, vitamin B5, vitamin B12, vitamin B2, vitamin B6, vitamin B1, selenium, manganese, sodium Bisolft Mndiaon complex (source of vitamin K),
Vitamin D3, Folic Acid.
Serving:
Serve dry or wet with water.
It is important to put a bowl of fresh and clean water throughout the day, in addition to the dry food
Store the bag closed, in a cool, dry place.
Better to use before the expiration date on the back of the packaging.
Available in selected pet stores.