Shopping Cart
You have no items in your shopping cart.
BELCANDO - Dry Food 15 Kilogram lamb and rice flavored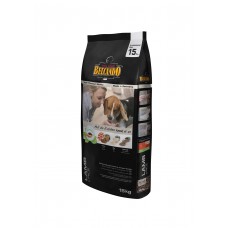 Производитель:
BELCANDO
Модель:
מזון יבש 15 ק"ג BELCANDO - כבש ואורז
Наличие:
Есть в наличии
Цена:
₪299.90
Без НДС: ₪299.90
LAMB & RICE (lamb and rice), it is a must for dogs that require special meals because of their tendency to
food intolerance. LAMB & RICE is designed for dogs with food allergies or intestinal problems.

Benefits:

Easy to digest thanks to 40% of rice, as well as carob and oat bran that help digest.
quality organic lamb meat and chicken as animal sources for protein; without gluten - wheat
Flax seeds contain high levels of omega-3 fatty acids, which together with brewer's yeast, lecithin and linoleic acid ensure healthy skin and glossy coat.
A winning combination!

Yucca extracts ties between the materials in the process of metabolism in the colon, therefore reducing the unpleasant odors that your dog distributes.
A natural protection for the cells with pickled black grape seed prevents rust.

ingredients:

Rice (40%), lamb (dry, at least 15%), corn, chicken meat (dried), poultry fat, vegetable oil, grape seed (oil-free), brewer's yeast, peeled oat bran, flaxseed, chicken liver (hydrolysed), pregelatinised starch, sodium chloride, yucca extract

Recommendation:
Feed dogs are sensitive to normal activity level

75% of the total animal protein proteins, of which - 35% chicken, 40% lamb