Shopping Cart
You have no items in your shopping cart.
La Cat Dry Food 3 Kilogram fish flavored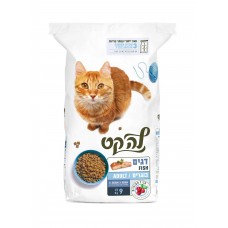 Производитель:
לה קט
Модель:
מזון יבש 3 ק"ג לחתול בטעם דגים לה קט
Наличие:
Есть в наличии
Цена:
₪139.00
Без НДС: ₪139.00
La Cat Fish
Yummy…!
Cats are known for their impeccable taste. They know exactly what they like. With La Cat, your cat will not want to part with their plate… Because all cats prefer La Cat! Cat food is specially made to fit all types of cats. It combines quality, freshness and a great taste that cats love – and now with added cranberries (known for their ability to protect the urinary system). Nutrition has a great impact on cats' health, fur and fur growth. A wide range of foods leads the cat at all stages of life, ensuring that every step he will receive the unique ingredients necessary for a proper development.
With La Cat – your cat receives all the benefits in one package.
•Caters to the cat's nutritional needs throughout his life
• The formula contains Multi - Vitamin complex of 24 vitamins and minerals
• Tasty!
• Enriched with essential fatty acids Omega-3 and Omega-6 for richer and healthier fur!
• Enriched with cranberries known for their ability to protect the urinary system
• Enriched with taurine to improve vision and heart health
•Contains chicken fat that helps build cells and is used as an reliable energy source
• Contains dietary fiber that help the proper functioning of the digestive system
• Specially made to fit the gums and teeth structure of cats
• Contains natural supplement that reduces smells provisions YUCCA
• The optimal pH level helps prevent the formation of urinary stones
• Meets the requirements of American Standard AAFCO cat food
La Cat (chicken) is now available in a package that prevents oxidation – thus protecting the product's freshness.
Available in weight: 9 kilogram, 2.85 kilogram, 1.5 kilogram, and 400 kilogram.
Ingredients: corn, chicken flour, wheat, corn gluten, chicken fat, fish meal, wheat Rmolaz', flavors, salt, minerals and trace elements, vitamins, cranberries, taurine, yucca, oxidation inhibitors, phosphoric acid, citric acid.
Nutritional Content:
Protein 30
Fat 13
Apr 6.5
Cellulose 2
Calcium 1.1
Phosphorus 0.9
Salt 1.6
Taurine 0.15
Magnesium 0.10
Content of vitamins (IU / kg) Vitamin A 15 000 Vitamin D3 1200 Vitamin E 60
Metabolic energy: 3600 kcal / kilogram