Shopping Cart
You have no items in your shopping cart.
CP Classic Small Breed Beef 8.5 Kg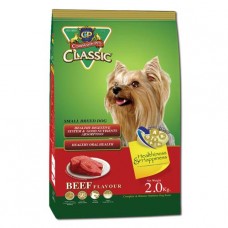 Модель:
CP Classic Small Breed Beef 8.5 Kg
Наличие:
Есть в наличии
Цена:
₪130.00
Без НДС: ₪130.00
CP Classic Dog Food - Small Breed
Flavor(s) and Size(s)
Small Breed Available in 2kg.
Ingredients:
Corn, Chicken by-product meal, Cassava meal, Soybean meal, Flax seed, Chicken Fat, Iodized salt,
Vitamins and minerals, (Sodium hexametaphosphate),
Antioxidants and flavoring Crude Protein 22 % (MIN)
Crude Fat 8 % (MIN)
Crude Fiber 5 % (MAX)
Moisture 10 % (MAX)
Carbohydrates 60 % (MAX)
Sodium 0.10 % (MIN)
Advatages:
- Healthy Digestive System & good ingredients digestibility:
Helps maximize nutrient absorption and utilization.
- Healthy Oral Health:
Clinically proven additive helps reduce tartar buildup.
- Vitamin E and Selenium:
Helps strengthen the natural immune system.
- Omega-3 & Omega-6:
Helps develop healthy skin and coat.
- Optimal Level of Protein, Calcium and Phosphorus:
Helps proper development of strong muscles, teeth and bones in the growth stage.