Shopping Cart
You have no items in your shopping cart.
Rolls Rocky Dog Biscuits Smile 400 gr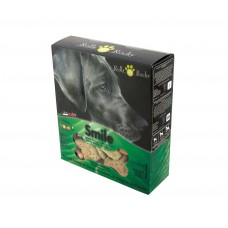 Модель:
67500
Наличие:
Есть в наличии
Цена:
₪25.00
Без НДС: ₪25.00
Rolls Rocky Premio Biscuits are Natural crunchy biscuits for your dog. They are made with whole wheat flour and vitamines without artificial aromas or products of animal provenance, without testing on animals and using only very selected and high quality raw materials.They are perfect for your dog while you are travelling or training him.

Laboratory tests confirmed that day by day Rollsrocky Premio biscuits strengthens and cleans dogs' teeth.

The bran helps their digestion and improves their physical condition.