Shopping Cart
You have no items in your shopping cart.
ROYAL CANIN Pure Feline Lively 3 kg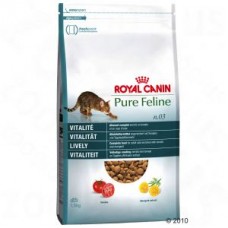 Производитель:
ROYAL CANIN
Модель:
44680
Наличие:
In Stock
Цена:
₪129.00
Без НДС: ₪129.00
Royal Canin Pure Feline cat food for your cat's vitality, with tomatoes, rich in poultry and fish, a balanced ratio of fat & protein for high energy requirements
An active cat has a higher caloric energy requirement due to his or her activity and for the maintenance of his or her physical fitness.
Royal Canin Pure Feline No.3 Vitality is rich in fish and poultry. Due to the very high nutritional value of fish protein, your cat is provided with all essential amino-acids that are necessary to stay fit.
Furthermore, fish is particularly popular with cats.
Phyto-nutrients are active plant-based components, whose consumption can positively influence the functions of organs. Royal Canin Pure Feline Vitality is a cat food that unites the qualities of a well-balanced and delicious diet with the advantages of plant-based active components for the health and wellness of your cat:
Tomato Lycopenes: tomato lycopene is a pigment from the cartenoid family. Due to its strong effects as an antioxidant, it has a positive influence on many bodily functions including digestion, heart functions and circulation, and especially the immune system. Because it is fat-soluble (lipophilic), its effects can unfold inside the cell membrane - exactly at the place where free radicals attack.
Marigold Blossom Meal: originally grown in Mexico, the marigold is from the Asteraceae family. Marigold blossom meal is a natural antioxidant that can help to support and strengthen the immune system.
Royal Canin Pure Feline Lively cat food to support your cat's vitality - healthy nutrition with active plant-based components.

With Royal Canin Pure Feline cat food for your cat's vitality, not only are your cat's nutritional needs satisfied, but your pet also receives active plant-based components that offer positive characteristics. The consideration of feline needs combined with a substantial knowledge of active plant-based components makes it possible to effectively apply these components in order to promote the health of the animal.
A split second is enough for a cat to change from motionless to full activity. From a standstill, cats can jump impressively high and can run 100 m in approx. 9 seconds. However, today their lifestyles are very similar to those of their human companions: they live more and more often in the city in an increasingly quiet and docile lifestyle. Even when cats spend their lives indoors, they need the opportunity to let out certain natural behaviours.
In order to counteract the effects of age, plant-based components can be used in the diet, which usually serve to protect the plants themselves. These include ginsenosides (from the ginseng root), lycopenes (that give tomatoes their bright red colour), and polyphenols from the leaves of green tea. All of these components have potential as antioxidants, which means that they fight attacks from the free radicals that are responsible for cell-aging. All of these plant-based ingredients ensure that the organism doesn't lose its vitality in advanced age.
Ingredients:
Poultry meal, wheat, animal fat, corn, rice, corn gluten feed, fish meal, animal proteins (hydrolysed), wheat gluten feed, chicory fibre, fish oil, minerals, soya oil, dried tomato (1%), Tagetesblütenmehl [source of lutein] (0.06%), hydrolyzate from crustaceans (source of glucosamine), hydrolysed cartilage (source of chondroitin).
Additives:
Vitamin A (17,000 IU / kg), vitamin D3 (700 IU / kg), vitamin E (500 mg / kg), vitamin C (200 mg / kg), Vitamin B1 [Thiamine] (25.7 mg / kg), Vitamin B2 [Riboflavin] (51.4 mg / kg), Vitamin B5 [pantothenic acid] (47.9 mg / kg), vitamin B6 [pyridoxine] (23.6 mg / kg), vitamin B12 [cobalamin] (0, 16 mg / kg), Vitamin B3 [Niacin] (162.9 mg / kg), vitamin B8 [Biotin] (1.43 mg / kg), vitamin B9 [folic acid] (4.3 mg / kg), choline ( 2,000 mg / kg), copper (21 mg / kg), iron (170 mg / kg), manganese (64 mg / kg), zinc (206 mg / kg), selenium (0.19 mg / kg), iodine ( 2.9 mg / kg), lutein (5 mg / kg), chondroitin sulphate + glucosamine chloride (500 mg / kg), arginine (1.88 mg / kg).
Analytical constituents:

arachicdonic acid
0.16 %
ash
7.3 %
calcium
1.25 %
chloride
0.81 %
fat
20.0 %
fiber
1.4 %
food energy
4.175 kcal/kg
linoleic acid
3.1 %
magnesium
0.08 %
moisture
7.0 %
omega-3 fats
0.87 %
omega-6 fats
3.45 %
phosphorus
1.02 %
potassium
0.6 %
protein
35.0 %
sodium
0.6 %
starch
24.6 %
taurine
0.23 %