Shopping Cart
You have no items in your shopping cart.
ROYAL CANIN Pure Feline Beauty 0.3 kg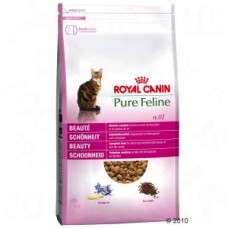 Производитель:
ROYAL CANIN
Модель:
3759
Наличие:
In Stock
Цена:
₪26.00
Без НДС: ₪26.00
Royal Canin Pure Feline Beauty cat food supports your cat's fur growth and skin cell renewal with 33% protein (incl. poultry). Valuable omega 3 & 6 fatty acids likewise promote glossy fur and healthy skin.
Phyto-nutrients are active plant-based components, whose consumption can positively influence the functions of organs. Royal Canin Pure Feline Beauty is a cat food that unites the qualities of a well-balanced and delicious diet with the advantages of plant-based active components for the health and wellness of your cat:
Borage Oil: borage oil is very rich in gamma linoleic acid (GLA), an unsaturated fat, that has very beneficial effects on skin and fur. It soothes skin irritations and regulates the production of sebum. Only borage oil, evening primrose oil, and black currant seed oil contain a worthwhile amount of GLA, but borage oil contains the most.
Linseed: linseed oil is a very concentrated source of unsaturated fats. About half of the content is alpha-linolic acid (ALA), that gives linseed its name. ALA is the first fatty acid in the omega-3 family; unsaturated omega-3 fats support the barrier functions of the skin and protect it from becoming over-dry.
Royal Canin Pure Feline cat food for beautiful fur - healthy nutrition with active plant-based components.

With Royal Canin Pure Feline Beauty cat food, not only are your cat's nutritional needs satisfied, but your pet also receives active plant-based components that offer positive characteristics. The consideration of feline needs combined with a substantial knowledge of active plant-based components makes it possible to effectively apply these components in order to promote the health of the animal.
A cat's fur is very thick, made up of 800 to 1600 hairs/cm². Every hair is composed of up to 80% protein. The shedding of the coat is controlled directly by natural daylight. This is why a cat who lives in relatively constant temperature and light conditions indoors sheds over the entire year. The composition of sebums (body fat) controls the lustre of the coat. Quality and quantity of this natural oil are directly influenced by the cat's diet.
Various plant components are particularly beneficial for an even glossier, silkier and luxurious fur: borage oil with its high content of gamma-linolic acid, and linseed oil, a very well-balanced source of unsaturated fats. Their combination provides a perfect balance between the essential fatty-acids of the Omega-6 and Omega-3 groups.
Ingredients:
Poultry meal, rice, oats (peeled), wheat, animal fat, corn gluten feed, animal protein (hydrolysed), wheat gluten feed, yeast, chicory fibre, lignocellulose, fish oil, soybean oil, linseed (1%), minerals, egg powder, borage oil (0.1%).
Additives:
Vitamin A (23,000 IU / kg), vitamin D3 (800 IU / kg), vitamin E (500 mg / kg), vitamin C (200 mg / kg), Vitamin B1 [Thiamine] (27 mg / kg), vitamin B2 [Riboflavin] (52.4 mg / kg), Vitamin B5 [pantothenic acid] (60.6 mg / kg), vitamin B6 [pyridoxine] (44.8 mg / kg), vitamin B12 [cobalamin] (0.17 mg / kg), Vitamin B3 [Niacin] (165.3 mg / kg), vitamin B8 [Biotin] (3.24 mg / kg), vitamin B9 [folic acid] (14.7 mg / kg), choline (2,000 mg / kg), copper (21 mg / kg), iron (165 mg / kg), manganese (61 mg / kg), zinc (171 mg / kg), selenium (0.14 mg / kg), iodine (2, 3 mg / kg), lutein (5 mg / kg), arginine (1.73 mg / kg).
Analytical constituents:

ash
6.3 %
fiber
2.9 %
moisture
7.0 %
potassium
0.6 %
taurine
0.21 %
calcium
1.07 %
food energy
4012.0 kcal
chloride
0.46 %
linoleic acid
2.95 %
omega-6 fats
3.22 %
sodium
0.4 %
arachicdonic acid
0.07 %
fat
17.0 %
magnesium
0.09 %
phosphorus
0.98 %
starch
27.9 %
omega-3 fats
1.02 %
protein
33.0 %