Shopping Cart
You have no items in your shopping cart.
ROYAL CANIN Mini (1-10kg) Babydog Milk 8.5 kg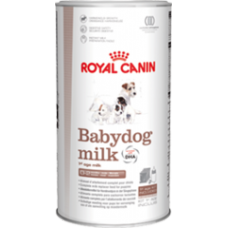 Производитель:
ROYAL CANIN
Модель:
7893
Наличие:
In Stock
Цена:
₪359.00
Без НДС: ₪359.00
Complete milk replacer feed for dogs - puppies from birth to weaning (0-2 months)
HARMONIOUS GROWTH
For steady, harmonious growth, the composition of Babydog milk is as close as possible to bitch's milk, with high energy and protein levels.
DIGESTIVE SAFETY
Babydog milk contains carefully selected ultra-digestible proteins, and has a lactose content very close to that of maternal milk. It is particularly suitable for the puppy's digestive system, because it does not contain starch, (puppies don't secrete enough amylase to digest starch). Finally, the addition of Fructo-Oligo-Saccharides (FOS) helps maintain a healthy balance of digestive flora.
EASY TO PREPARE
Thanks to its exclusive formula, Babydog milk dissolves instantly and completely, with no sediment, creating a totally homogenous formula.
ENRICHED WITH DHA
The puppy's nervous system continues to develop after birth. DHA naturally present in maternal milk helps develop cognitive function, and
so Babydog milk is enriched with DHA.
Ingredients
COMPOSITION: milk proteins, animal fats, whey protein, soya oil, copra oil, fish oil (source of DHA), minerals, fructo-oligo-saccharides. ADDITIVES (per kg): Nutritional additives: Vitamin A: 25000 IU, Vitamin D3: 1500 IU, E1 (Iron): 100 mg, E2 (Iodine): 4 mg, E4 (Copper): 15 mg, E5 (Manganese): 80 mg, E6 (Zinc): 230 mg, E8 (Selenium): 0.43 mg, Taurine: 2.5 g - Antioxidants. ANALYTICAL CONSTITUENTS: Protein: 33% - Fat content: 39% - Crude ash: 6% - DHA: 1 g/kg.
| | |
| --- | --- |
| Analysis table | Amount |
| Arachidonic acid (%) | 0.07 |
| Ash (%) | 6.0 |
| Biotin (mg/kg) | 1.0 |
| Dietary fibre (%) | 0.5 |
| DL-methionine (%) | 1.2 |
| EPA/DHA (%) | 0.15 |
| Fat (%) | 39.0 |
| Lactose (%) | 18.5 |
| Linoleic acid (%) | 3.2 |
| Metabolisable energy (calculated according to NRC85) (kcal/kg) | 5135.0 |
| Metabolisable energy (measured) (kcal/kg) | 5590.0 |
| Methionine Cystine (%) | 1.65 |
| Moisture (%) | 3.0 |
| Nitrogen-free extract (NFE) (%) | 19.0 |
| Omega 3 (%) | 0.76 |
| Omega 6 (%) | 3.3 |
| Phosphorus (%) | 0.8 |
| Protein (%) | 33.0 |
| Taurine (mg/kg) | 2500.0 |
| Vitamin A (UI/kg) | 25000.0 |
| Vitamin C (mg/kg) | 300.0 |
| Vitamin E (mg/kg) | 600.0 |
| | |
| --- | --- |
| Other nutrients | Amount |
| Arginine (%) | 2.05 |
| L-lysine (%) | 2.53 |
| | |
| --- | --- |
| Vitamins | Amount |
| Choline (mg/kg) | 3000.0 |
| Folic acid (mg/kg) | 3.2 |
| Vitamin B1 Thiamin (mg/kg) | 20.0 |
| Vitamin B12 Cyanocobalamin (mg/kg) | 0.3 |
| Vitamin B2 Riboflavin (mg/kg) | 40.0 |
| Vitamin B3 Niacin (mg/kg) | 155.0 |
| Vitamin B5 Pantothenic acid (mg/kg) | 56.0 |
| Vitamin B6 Pyridoxine (mg/kg) | 15.0 |
| Vitamin D3 (UI/kg) | 1500.0 |
| | |
| --- | --- |
| Minerals | Amount |
| Calcium (%) | 1.1 |
| Chlorine (%) | 0.6 |
| Copper (mg/kg) | 15.0 |
| Iodine (mg/kg) | 4.0 |
| Iron (mg/kg) | 100.0 |
| Magnesium (%) | 0.06 |
| Manganese (mg/kg) | 80.0 |
| Potassium (%) | 0.67 |
| Selenium (mg/kg) | 0.43 |
| Sodium (%) | 0.3 |
| Zinc (mg/kg) | 230.0 |