Shopping Cart
You have no items in your shopping cart.
ROYAL CANIN Specifics Sterlized 37 2 kg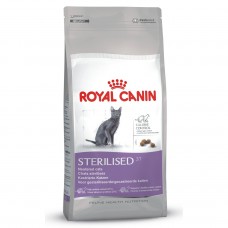 Производитель:
ROYAL CANIN
Модель:
1805
Наличие:
In Stock
Цена:
₪89.00
Без НДС: ₪89.00
Balanced and complete feed for sterilised adult cats over 1 year old, with a tendency to gain weight
After neutering, energy requirements of cats decrease. STERILISED 37 helps limit the risk of excess weight gain thanks to L-carnitine and a moderate level of fat (12%).
Supports a healthy urinary system
High protein content (37%)

Ingredients

COMPOSITION: dehydrated poultry meat, maize, vegetable protein isolate*, maize gluten, vegetable fibres, animal fats, hydrolysed animal proteins, beet pulp, minerals, yeasts, fish oil, fructo-oligo-saccharides, soya oil. ADDITIVES (per kg): Nutritional additives: Vitamin A: 18800 IU, Vitamin D3: 1000 IU, E1 (Iron): 35 mg, E2 (Iodine): 2.7 mg, E4 (Copper): 4 mg, E5 (Manganese): 46 mg, E6 (Zinc): 151 mg, E8 (Selenium): 0.06 mg, L-carnitine: 100 mg - Preservatives - Antioxidants. ANALYTICAL CONSTITUENTS: Protein: 37% - Fat content: 12% - Crude ash: 8.1% - Crude fibres: 6.1%. *L.I.P.: protein selected for its very high assimilation.
| | |
| --- | --- |
| [analysis_table] | Amount |
| [arachidonic_acid] ([percent]) | 0.06 |
| [ash] ([percent]) | 8.1 |
| [crude_fiber] ([percent]) | 6.1 |
| [dietary_fibre] ([percent]) | 14.6 |
| [epa_per_dha] ([percent]) | 0.23 |
| [fat] ([percent]) | 12.0 |
| [linoleic_acid] ([percent]) | 2.79 |
| [metabolisable_energy_calculated_according_to_nrc85] ([kcal_per_kg]) | 3410.5 |
| [metabolisable_energy_measured] ([kcal_per_kg]) | 3640.0 |
| [moisture] ([percent]) | 5.5 |
| [nitrogen_free_extract_nfe] ([percent]) | 31.3 |
| [omega_3] ([percent]) | 0.49 |
| [omega_6] ([percent]) | 2.95 |
| [protein] ([percent]) | 37.0 |
| [starch] ([percent]) | 22.8 |
| | |
| --- | --- |
| [other_nutrients] | Amount |
| [arginine] ([percent]) | 1.9 |
| [dl_methionine] ([percent]) | 0.96 |
| [l_carnitine] ([mg_per_kg]) | 100.0 |
| [l_lysine] ([percent]) | 1.28 |
| [lutein] ([mg_per_kg]) | 5.0 |
| [methionine_cystine] ([percent]) | 1.53 |
| [taurine] ([mg_per_kg]) | 2400.0 |
| | |
| --- | --- |
| [vitamins] | Amount |
| [biotin] ([mg_per_kg]) | 1.8 |
| [choline] ([mg_per_kg]) | 2100.0 |
| [folic_acid] ([mg_per_kg]) | 4.5 |
| [vitamin_a] ([ui_per_kg]) | 22000.0 |
| [vitamin_b1_thiamin] ([mg_per_kg]) | 17.1 |
| [vitamin_b12_cyanocobalamin] ([mg_per_kg]) | 0.18 |
| [vitamin_b2_riboflavin] ([mg_per_kg]) | 61.4 |
| [vitamin_b3_niacine] ([mg_per_kg]) | 194.5 |
| [vitamin_b5_pantothenic_acid] ([mg_per_kg]) | 57.1 |
| [vitamin_b6_pyridoxine] ([mg_per_kg]) | 28.1 |
| [vitamin_c] ([mg_per_kg]) | 200.0 |
| [vitamin_d3] ([ui_per_kg]) | 1000.0 |
| [vitamin_e] ([mg_per_kg]) | 500.0 |
| | |
| --- | --- |
| [minerals] | Amount |
| [chlore] ([percent]) | 0.81 |
| [copper] ([mg_per_kg]) | 15.0 |
| [iodine] ([mg_per_kg]) | 2.7 |
| [iron] ([mg_per_kg]) | 221.0 |
| [magnesium] ([percent]) | 0.08 |
| [manganese] ([mg_per_kg]) | 62.0 |
| [potassium] ([percent]) | 0.7 |
| [selenium] ([mg_per_kg]) | 0.31 |
| [sodium] ([percent]) | 0.7 |
| [zinc] ([mg_per_kg]) | 200.0 |