Shopping Cart
You have no items in your shopping cart.
CANADA LITTER Cat Litter 18 kg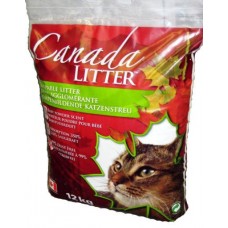 Производитель:
CANADA LITTER
Модель:
401411
Наличие:
Есть в наличии
Цена:
₪99.00
Без НДС: ₪99.00
The litter CanadaLITTER™ is made from sodium bentonite and is produced in Canada.

Our litter has a capacity of absorption of 350% (3.5 times its own weight). The fine granulation of our litter reminds the cat of its natural environment. The exceptional qualities of this litter are attributed due to its high agglomerating capacity and its absorption properties. Because of its remarkable capacity of absorption, convincing results are immediately noted by the instant clumping of the product when wet. All that is left for the Pet owner to do is to remove those clumps daily in order to eliminate the risk of bacteria that may form in the tray. The perfume, made from essential baby powder oils, is not aggressive for the cat and was designed to eliminate and control odours in the tray and to make it more pleasant for everyone around.

Bentonite is a mineral clay with the characteristics of expansion, absorption and very low permeability. Its principal mineral component is montmorillonite. It is possible to find bentonite in the whole world, but the bentonite layers of excellent quality (very high water holding capacity) are extremely rare.