Shopping Cart
You have no items in your shopping cart.
ProMeris for Dogs Medium Breed 10-25 kg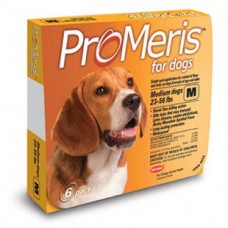 Модель:
36003
Наличие:
Есть в наличии
Цена:
₪174.00
Без НДС: ₪174.00
For medium sized dogs weighing 10 to 25 kg and puppies over 8 weeks.
The product contains 3 ampoules.
ProMeris is based on Amitrez therefore do not use a flea collar while taking ampoules.