Shopping Cart
You have no items in your shopping cart.
Select Menu Senior Dry Food 15 Kilogram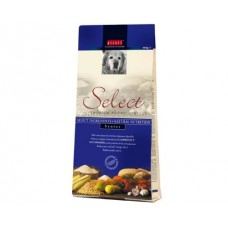 Производитель:
Picart
Модель:
Select Menu Senior 15kg
Наличие:
Есть в наличии
Цена:
₪245.00
Без НДС: ₪245.00
Senior Select is formulated by our nutritionists and veterinarians following the Mediterranean diet for optimal health of your dog.
Its high content of premium chicken gives the product an excellent taste. With GLUCOSAMINA to protect joints and rich in vitamins and minerals.
​​
EXCELLENT TASTE:
We use fresh high quality ingredients, gentle preparation (steaming) and a high content of Chicken (minimum 37%), which gives the product an excellent taste.
SKIN AND HAIR:
Essential fatty acids Omega 3 & 6 promote the health of skin and hair, encouraging a bright, strong and caring coat.
HIGHLY DIGESTIBLE:
We use premium chicken, a source of essential amino acids and highly digestible proteins. Especially important for senior dogs.
IMMUNE SYSTEM:
The mighty complex Lycoprotect (made with natural antioxidants: tomato, pepper and garlic), along with citrus extract, strengthens the immune system.
Recommended daily allowance:
Peso (kg)
10-15
15-20
20-25
25-30
30-35
35-40
40-50
50-60
60-70
g / day
178-240
240-300
300-355
355-405
405-455
455-505
505-595
595-680
680-765