Shopping Cart
You have no items in your shopping cart.
Select Menu Lamb & Rice Dry Food 15 Kilogram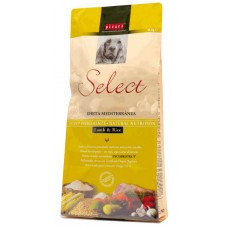 Производитель:
Picart
Модель:
Select Menu Lamb & Rice 15kg
Наличие:
Есть в наличии
Цена:
₪262.00
Без НДС: ₪262.00
Select Lamb & Rice is formulated by our nutritionists and veterinarians following the Mediterranean diet.
Its high content in premium lambskin gives the product an excellent flavor and makes for an excellent hypoallergenic food.
Moreover, it is specially formulated to encourage your dog to have optimal health.
EXCELLENT TASTE:
We use fresh high quality ingredients, gentle preparation (steaming) and a high content of lamb (min 26%), which gives the product an excellent taste.
SKIN AND HAIR:
Essential fatty acids Omega 3 & 6 promote the health of skin and hair, encouraging a bright, strong and caring coat.
Hypoallergenic:
Contains only premium lambskin (minimum 26%) and excellent source of easily assimilated proteins for sensitive dogs to other protein sources. It does not contain wheat or soy and beef.
IMMUNE SYSTEM:
The mighty complex Lycoprotect (made with natural antioxidants: tomato, pepper and garlic), along with citrus extract, strengthens the immune system.
Recommended daily allowance:
Weight (kg)
1-5
5-10
10-15
15-20
20-30
30-40
40-50
50+
g / day
35-105
105-180
180-240
240-300
300-405
405-505
505-600
600+
Composition:
dehydrated lamb meat (26% min.), Rice (min 26%.), corn, hydrolyzed animal protein, corn gluten, animal fat, Brewer's yeast, beet pulp, tomato pulp, Minerals, Oil fish, pepper, Prebiotic MOS, Citrus Extract, Yucca Extract, Garlic.
Analytical constituents:
Protein: 26% - Fat content: 15% - Inorganic matter: 8.8% - Gross Fibers: 2% - DHA: 500 mg / kg
Additives (per kg)
Nutritional additives:
Vitamin A: 22,500 IU,
Vitamin D3: 1800 IU
Vitamin
E 110 IU,
E1 (Iron): 20 mg,
E2 (Iodine): 1.5 mg,
E4 (Copper): 10 mg,
E5 (Manganese): 12 mg,
E6 (Zinc): 120 mg,
E8 (Selenium): 0.3 mg.
Antioxidants.
Manufacturer site: http://www.picartpetcare.com/es/Slambrice