Shopping Cart
You have no items in your shopping cart.
SCIENCE PLAN Mini Breed Puppy Chicken 3 kg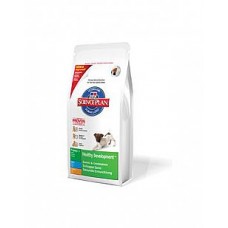 Производитель:
SCIENCE PLAN
Модель:
47848829
Наличие:
Есть в наличии
Цена:
₪98.00
Без НДС: ₪98.00
Recommended for
Puppies of small and medium breeds from weaning until 1 year old
Pregnant and lactating bitches
Not recommended for
Cats
Obesity-prone non-lactating adults

Puppies of large breeds (over 25 kg when adult) following weaning. After weaning, large breed puppies should be fed Science Plan™ Puppy Healthy Development™ Large Breed.
Additional information
During the last half of lactation, puppies can be weaned on to the same Science Plan™ Puppy food that is being fed to the bitch, which simplifies the weaning process.
Science Plan™ Puppy Healthy Development™ formulas are enriched with a high level of DHA (docosahexaenoic acid), an essential structural component of the brain which occurs naturally in mothers' milk. All Science Plan™ Puppy Healthy Development™ formulas (other than Large Breed) can be fed to pregnant and lactating bitches and will provide puppies with a high level of DHA before weaning. When the appropriate Science Plan™ Puppy formula is also fed to puppies after weaning, additional DHA is supplied throughout the critical formation and development of brain and eyes.
INGREDIENTS DRY
Chicken (minimum Chicken 34%, Chicken and Turkey combined 50%): Ground maize, chicken and turkey meal, animal fat, digest, dried beet pulp, maize gluten meal, fish oil, potassium chloride, disodium phosphate, salt, L-tryptophan, taurine, vitamins and trace elements. Naturally preserved with mixed tocopherols, citric acid and rosemary extract.