Shopping Cart
You have no items in your shopping cart.
SCIENCE PLAN Kitten Chicken 5 kg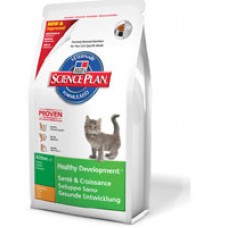 Производитель:
SCIENCE PLAN
Модель:
5101
Наличие:
Есть в наличии
Цена:
₪199.00
Без НДС: ₪199.00
Hills Science Plan Healthy Development Kitten Food with Chicken is a specifically formulated kitten food to provide the complete nutrition needed for the development and growth of your kitten.

Made from high quality ingredients including a minimum of 53% chicken, Hills Science Plan Healthy Development Kitten Food is infused with:

DHA - to promote the development of your kitten's brain and vision;
High Quality Protein - to support strong muscles;
Minerals - to help boost overall health;
Natural Fibre - for a healthy digestive system;
Taurine - to help maintain normal heart function and retinal structure;
Controlled Magnesium - to support your kitten's urinary tract;
Controlled Calcium and Phosphorus - to promote healthy bones and teeth;
Omega 3 and 6 Fatty Acids - for a shiny, healthy coat;
Anti-oxidants - boosts your kitten's immune system, reduces cell damage and aids growth.

The crunchy kibble will help aid your kitten's dental health through the natural crunching process; promoting dental care throughout your kitten's life.

Suitable for kittens up to 12 months old.