Shopping Cart
You have no items in your shopping cart.
SCIENCE PLAN Adult Cat Chicken 2 kg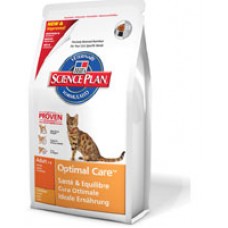 Производитель:
SCIENCE PLAN
Модель:
5103
Наличие:
Есть в наличии
Цена:
₪99.00
Без НДС: ₪99.00
Hills Science Plan Feline Adult Cat Food with Chicken is specifically formulated cat food designed to meet the nutritional needs of your adult cat, to help it stay healthy and strong.

Made from high quality ingredients including a minimum of 44% chicken, Hills Science Plan Feline Adult Cat Food is infused with:

High Quality Protein - to support strong muscles;
Minerals - to help boost overall health; with added calcium to help keep bones and teeth strong;
Natural Fibre - for a healthy digestive system;
Taurine - to help maintain normal heart function and retinal structure;
Controlled Magnesium - to support your cat's urinary tract;
Controlled Phosphorus - to maintain healthy kidneys;
Omega 3 and 6 Fatty Acids - for a shiny, healthy coat;
Anti-oxidants - boosts your cat's immune system, reduces cell damage and aids growth.

The crunchy kibble will help aid your cat's dental health through the natural crunching process; promoting dental care throughout your cat's life.

Suitable for adult cats aged 1-7.