Shopping Cart
You have no items in your shopping cart.
SCIENCE PLAN Large Breed Puppy Chicken 11 kg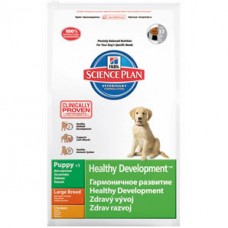 Производитель:
SCIENCE PLAN
Модель:
546789
Наличие:
Есть в наличии
Цена:
₪259.00
Без НДС: ₪259.00
Hills Science Plan Healthy Development Puppy Food Large Breed with Chicken is specifically formulated to meet the nutritional needs of your large breed puppy to help support its growth and development.

Made from high quality ingredients including a minimum of 34% chicken, Hills Science Plan Canine Puppy Large Breed is infused with:

Controlled Fat and Calories - to help large breed puppies grow at the proper rate;
Controlled Calcium - for healthy joint and bone development;
L-carnitine - a special nutrient shown to enhance bone and muscle strength;
High Quality Protein - to support healthy growth and strong muscles;
Minerals - provides the optimum amount for growth and development; with added calcium to help keep bones and teeth strong;
Natural Fibre - for a healthy digestive system;
Omega 3 and 6 Fatty Acids - for a shiny, healthy coat;
Anti-oxidants - boosts your puppy's immune system, reduces cell damage and aids growth.

The crunchy kibble will help aid your puppy's dental health through the natural crunching process, promoting dental care from a young age.

Suitable for puppies from weaning up to 1 year old whose adult body weight will exceed 25kg.
Main Flavour: Chicken (30%)

Suitable for pets of the following lifestage(s):

Large breed puppies (over 25 kg when adult) from weaning until 1 year old

Suitable for pets with the following dietary requirement(s):

Large breed puppies (over 25 kg when adult) from weaning until 1 year old.

Composition:

A Complete Pet Food For Puppies. with Chicken (minimum Chicken 30%, Chicken and Turkey combined 45%): Ground maize, chicken and turkey meal, animal fat, digest, maize gluten meal, dried beet pulp, cellulose, fish oil, potassium citrate, salt, vegetable oil, potassium chloride, L-carnitine supplement, disodium phosphate, L-tryptophan, vitamins and trace elements. Naturally preserved with mixed tocopherols, citric acid and rosemary extract.

Analytical Constituents:

Dry Matter: Protein 30.4%, Fat 17.20%, Carbohydrate (NFE) 41.60%, Fibre (crude) 4.50%, Moisture -, Calcium 1.06%, Phosphorus 0.83%, Sodium 0.55%, Potassium 0.86%, Magnesium 0.09%, Omega-3 fatty acids 0.76%, Omega-6 fatty acids 3.26%, L-Carnitine 303 mg/kg, Vitamin A 14584 IU/kg, Vitamin D 659 IU/kg, Vitamin E 649 mg/kg, Vitamin C 76 mg/kg, Beta-carotene 1.6 mg/kg.