Shopping Cart
You have no items in your shopping cart.
Large Parrot Food Prestige Premium 1 kg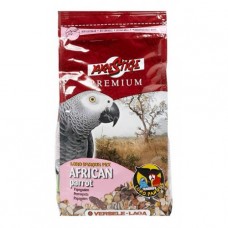 Производитель:
VERSELE-LAGA
Модель:
58176
Наличие:
Есть в наличии
Цена:
₪63.00
Без НДС: ₪63.00
African Parrot Loro Parque Mix is an enriched seed mixture with extra food elements, specially made for all African parrots such as African grey parrots, jardine's parrots and Senegal parrots. All the Prestige Premium Loro Parque mixtures are composed with a very varied supply of seeds and grains and contain a quantity of delicacies for parrots such as puffed grains, pumpkin seeds, rose hip, dried peppers and pine nuts. This premium basic food is enriched with 8 % Maxi VAM pellets, which assure an extra supply of Vitamins, Amino acids and Minerals. This species-adapted mix has been composed in consultation with the scientific team of the Loro Parque and is used in the park as the basic food for all the African parrots. After a successful application of this mixture in the famous Loro Parque in Tenerife, this blend is now also available elsewhere for every parrot keeper.
Composition
Striped sunflower seeds
White sunflower seeds
Safflower
Maxi VAM pellets
Pointed oats
Maize
Paddy rice
Wheat
Buckwheat
Barley
Peeled peanuts
Pumpkin kernels
Dari
Pine nuts
Carob
Canary seed
Hempseed
Oyster shells
White millet
Popped wheat
Milocorn
Popcorn
Rosehip
Red peppers