Shopping Cart
You have no items in your shopping cart.
Budgie Food Prestige Premium 1 kg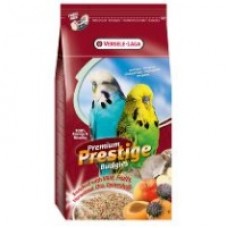 Производитель:
VERSELE-LAGA
Модель:
58080
Наличие:
Есть в наличии
Цена:
₪45.00
Без НДС: ₪45.00
This premium seed mixture has a varied and balanced composition, specially attuned to the specific nutritional requirements of budgies. With VAM- and fruit pellets full of extra Vitamins, Amino acids, Minerals andFlorastimul® for optimal condition and digestion, chia seeds for extra provision of omega-3 fatty acids and oyster shell for the correct functioning of the gizzard and the right calcium/phosphorus balance.
Composition
Seeds (min. 2 % chia)
Cereals
Derivatives of vegetable origin
Minerals (min. 2 % oyster shells)
Oils and fats
Fruit
Sugars
Fructo-oligosaccharides