Shopping Cart
You have no items in your shopping cart.
Hamster Food Crispy Muesli 2.75 kg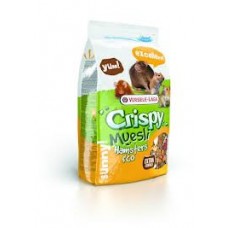 Производитель:
VERSELE-LAGA
Модель:
58247
Наличие:
Есть в наличии
Цена:
₪65.00
Без НДС: ₪65.00
The tasty and protein-rich Crispy Muesli Hamsters & Co for hamsters and other omnivorous rodents is a complete food. With delicious puffed grains, lots of vegetables and tasty nuts... Really Sunny! A varied and extra tasty gourmet mix for your hamster. Thanks to the "Happy & Healthy" pellets it also contains, Crispy Muesli has all the nutrients that your pet needs to live a long, healthy and happy life. The energy-rich composition also keeps the animals in great shape. Extra tasty for a good absorption.
Analytical constituents
Protein
15
%
Fat content
10
%
Crude fibre
7
%
Crude ash
3
%
Calcium
0,5
%
Phosphorus
0,4
%
Nutritional additives
Vitamin A
9.100
IU/kg
Vitamin D3
1.500
IU/kg
Vitamin E
35
mg/kg
E1 (iron)
40
mg/kg
E2 (iodine)
1,5
mg/kg
E4 (copper)
7
mg/kg
E5 (manganese)
55
mg/kg
E6 (zinc)
51
mg/kg
E8 (selenium)
0,15
mg/kg
Colourant(s)
Antioxidant(s)
Composition
Derivatives of vegetable origin
Cereals
40
%
Vegetables
Minerals
Seeds