Shopping Cart
You have no items in your shopping cart.
Kosher for Passover - La Cat Dry Food 3 Kilogram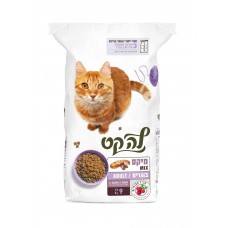 Производитель:
לה קט
Модель:
15146
Наличие:
Есть в наличии
Цена:
₪89.00
Без НДС: ₪89.00
PASSOVER KOSHER - RABANOUT HADERA- With Te'oda - Rabbi Haim Zaretzki
Our clients enjoy storing their Chametz food bags with us, we will sell it, and you can recuperate it after the Chag
La Cat (chicken) is now available in a package that prevents oxidation – thus protecting the product's freshness.
Ingredients: corn, chicken flour, wheat, corn gluten, chicken fat, fish meal, wheat Rmolaz', flavors, salt, minerals and trace elements, vitamins, cranberries, taurine, yucca, oxidation inhibitors, phosphoric acid, citric acid.
Nutritional Content:
Protein 30
Fat 13
Apr 6.5
Cellulose 2
Calcium 1.1
Phosphorus 0.9
Salt 1.6
Taurine 0.15
Magnesium 0.10
Content of vitamins (IU / kg) Vitamin A 15 000 Vitamin D3 1200 Vitamin E 60
Metabolic energy: 3600 kcal / kilogram