Shopping Cart
You have no items in your shopping cart.
KILTIX Small Dogs up to 8kg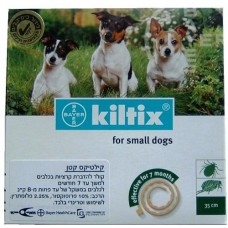 Модель:
1250
Наличие:
Есть в наличии
Цена:
₪129.00
Без НДС: ₪129.00
Collar for pest control and prevention of ticks for dogs weighing up to 8 kg, suitable for dogs of five months .
Effective for a period of about 6 months.
Contact with water can reduce the effectiveness of the collar
Composition:
10% Frofoksor
2.25% Flumtrin