Shopping Cart
You have no items in your shopping cart.
Magic Dry Food 20 Kilogram for adult dog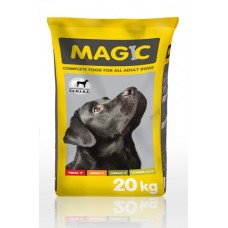 Производитель:
MAGIC
Модель:
מזון יבש 20 ק"ג לכלב בוגר Magic
Наличие:
Есть в наличии
Цена:
₪159.90
Без НДС: ₪159.90
MAGIC 0 complete and balanced dry food for dogs

MAGIC is a dry food containing all the ingredients your dog needs.

- Rich in grains and fiber
- Enriched with vitamins and minerals
- No artificial colors and no preservatives
- Manufactured in accordance with FEDIAF

Can be purchased in weight: 20 kg

Ingredients:

Corn, wheat, meat flour, flour Rmolaz', beet pulp, animal fat, corn gluten meal, minerals and vitamins.

Nutritional content in percentages:

Protein: 22 Fat: 9, Moisture: 10, cellulose: 3.5, ash: 9 Calcium: 2.4, phosphorus 1.6 Sodium 0.4
Content of vitamins:
Vitamin A IU \ kg 8000
Vitamin D3 IU \ kg 650
Vitamin E mg / kg 80

Serving:

• Best served dry or wet with water, once to twice a day.
• It is important to put near the dry food a bowl with fresh clean and all day long.
• Store the container in a cool, dry place.
How to pass from a different food to MAGIC:

Recommended : the transition is gradual. This period lasted several days, during which you shall serve your dog the previous food mixed with MAGIC..
Undo edits