Shopping Cart
You have no items in your shopping cart.
Fresh n' Clean Daily Grooming Spray for Dogs & Cats 473 ml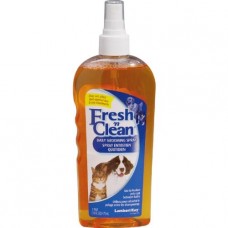 Модель:
475800
Наличие:
Есть в наличии
Цена:
₪65.00
Без НДС: ₪65.00
Control odors and keep pets smelling springtime fresh with Fresh 'N Clean daily grooming spray.
One easy-to-use daily application deodorizes and conditions pet's coats between baths.
Gentle, tearless formula.
Does not affect flea and tick treatments.
No washing or rinsing required just spritz on and go.
Contains cleansing agents (sodium laureth sulfate, disodium oleamido mea sulfosuccinate, cocamidopropyl betaine, nonoxynol-9), conditioners (cocamide diethanolamine, peg-12 dimethicone), deodorizer (zinc ricinoleate), and pH adjuster (citric acid).

Directions for use – Do not wet the pet with water. Spray on a dry coat, work it into the coat, then towel the coat dry. Re-treat stubborn mats and soiled area. For best results, be sure that the problem areas are saturated with the spray. When completely dry, comb or brush the coat to remove loosened dirt.