Shopping Cart
You have no items in your shopping cart.
PRO PLAN All Breeds Adult Sensitive Salmon & Rice 15 Kg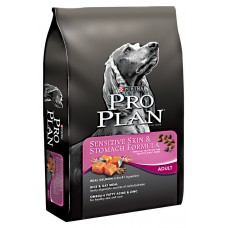 Производитель:
PRO PLAN
Модель:
13219
Наличие:
In Stock
Цена:
₪339.00
Без НДС: ₪339.00

Pro Plan Adult dogs of all breeds with sensitive skin and stomach (Salmon and Rice)
• real salmon meat as its first ingredient.
• a high digestibility for maximum absorption of food.
• a unique mix of omega-3 and omega-6 along with zinc for healthy skin and fur
• The perfect diet combined with antioxidants for health and longevity
Guaranteed Analysis Percent
Protein 26% (min)
Fat 16% (min.)
Cellulose 4% (max)
Moisture 12% (ma)
Calcium 1.0% (min)
Phosphorus 0.8% (min)
Ash 8.3% (max)
Zinc 180 mg / kg (min)
Salt 1.42% (max)
Linoleic acid 1.1% (min.)
Selenium 0.30 mg / kg
Glucosamine 400 mg / kg (min)
Vitamin A 15 000 IU / kg (min)
Vitamin E 460 IU / kg (min)
Vitamin C 70 mg / kg (min)
Omega 3 0.8% (min)
Omega 6 1.3% (mgr)
Calorie content 3680 kcal / kg metabolizable energy ()
412 kcal / cup feeding (112 g)
Ingredients:
Salmon, infusion of rice, flour, canola, oat flour, animal fat protected by a mixture Tokofrolim (source of Vitamin E), fish meal, salmon meal, pearl barley, brewer's yeast, is the living, salt, potassium chloride, L-lysine , vitamin E, zinc sulfate, ferrous sulfate, L Askorbil 2 Polifosfat (source of vitamin C), manganese sulfate, niacin, calcium carbonate, vitamin A, calcium Fantotnat, Thiamine Mononitrate, copper sulfate, riboflavin, vitamin B12, pyridoxine hydrochloride, garlic oil , folic acid, vitamin D3, calcium Iodat, biotin, sodium Bisolapit Mndion complex (source of Vitamin K1 activity), selenium.
Feeding Amount
| | |
| --- | --- |
| Dogs weight in kg | Daily feeding in grams |
| 1.5 to 5.5 | 56- 112 |
| 6 to 9 | 112-168 |
| 9.5 to 15.5 | 168-252 |
| 16.5 to 22.5 | 252-308 |
| 23 to 34 | 308-411 |
| 34.5 to 45 | 411-504 |
| Over 45 | 504 g and 37 g more about each 4.5 kg body weight over 45 kg. |