Shopping Cart
You have no items in your shopping cart.
Frontline Plus Ampoules Small Breed 2-10 kg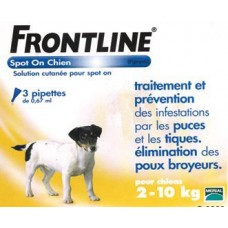 Модель:
34004
Наличие:
Есть в наличии
Цена:
₪109.00
Без НДС: ₪109.00
Ampoules for prevention and pest control of fleas and lice on the body of the dog and its environment. Frontline drops designed for dogs aged 8 weeks and older weighing up to 10 kg (small breed).
Pack contains 3 ampoules.
Product flea / lice / ticks contains:
Fipronil 10.0%
Butylhydroxyanisole 0.02%
Butylhydroxytoluene 0.01%
Ethanol 10.0%
Diethylene glycol monoethylether 69.97%