Shopping Cart
You have no items in your shopping cart.
PET CHOICE All Breeds Senior Light 17 kg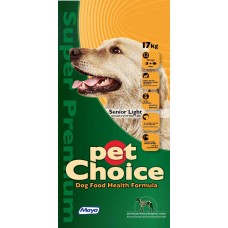 Производитель:
PET CHOICE
Модель:
801085
Наличие:
Есть в наличии
Цена:
₪259.00
Без НДС: ₪259.00
Pet Choice Senior Light Dry food is for adult dogs suffering from obesity.
With probiotic bacteria for strengthening the digestive system.
Glucosamine sulfate and Condoriton for rehabilitation and strengthening of joint cartilage tissue
Encourages and strengthens the immune system
Contains Omega 3 + Omega 6 skin and coat health
Nutrients: Pet Choice Senior / Lite older dogs or dogs suffering from obesity
Flour, meat, corn, wheat, sorghum, barley, rice, corn gluten, chicken fat stabilized, fish meal, dried egg, brewer's yeast, natural flavoring, fish oil, Alfamion, Material glucose reliable, Condoriton sulfate, yucca Sidgra, potassium chloride , Menen oligo saccharides.
Vitamin E, zinc oxide, iron sulfate, vitamin D, vitamin A, nicotinic acid, acid Fntotonit, manganese oxide, copper sulfate, thiamine, riboflavin, Firdoksin, iodine, cobalt Rbont, vitamin K3, folic acid, selenium, organic, biotin, vitamin B12.
Nutritional composition:
Protein 20%
General 10% fat
Cellulose 5.0%
Calcium 1.0%
Phosphorus 0.9%
Ash 6.0%
Moisture 8%
0.3% sodium
Glucosamine 800 mg per kg
Condoriton sulfate 300 mg per kg