Shopping Cart
You have no items in your shopping cart.
PEDIGREE Milky Biscuits 350 gr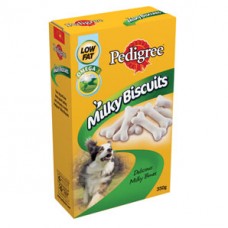 Производитель:
PEDIGREE
Модель:
289
Наличие:
Есть в наличии
Цена:
₪39.00
Без НДС: ₪39.00
Delicious milky bones
Omega 3 to help keep him fit for life
Low fat Contains less than 5% fat
Free from artificial colours and flavours
Complementary pet food for adult dogs.
Pedigree® Milky Biscuits seriously crunchy and delicious biscuits, rich in calcium and with a taste dogs love.
Part of a range of tasty low fat treats from Pedigree®, specially made for maximum taste and enjoyment, with less than 5% fat now you can treat your dog whenever you like.
Developed with our nutritionists and veterinarians of Waltham®.
Waltham®. The world's leading authority on pet care and nutrition
Other Information
Additives: Free From Artificial Colours
Additives: Free From Artificial Flavours
Ingredients:
Cereals,Minerals ,Various Sugars ,Oils and Fats ,Milk and Milk Derivatives ,Meat and Animal Derivatives
Nutrition
Typical Values
Typical values analytical constituents (%):
-
Protein:
12.1
-
Fat content:
4
-
Inorganic matter:
6.2
-
Crude fibres:
0.5
-
Energy:
345kcal/100g
-
Calcium:
1.6