Shopping Cart
You have no items in your shopping cart.
Certifect for Dogs Medium Breed 10-20 kg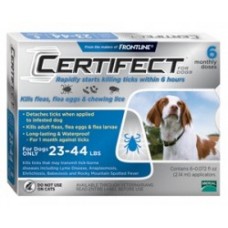 Модель:
37003
Наличие:
Есть в наличии
Цена:
₪219.00
Без НДС: ₪219.00
"CERTIFECT" - the new generation of ampoules for pest prevention of ticks, fleas and lice in dogs.
New development of "MERIAL" (producer of Frontline) gives ampoule against ticks especially effective coverage.
* Each pack comes with three ampoules, each ampoule is effective for at least 30 days.
* Do not put this product together with a flea collar.
* It is important to make sure the weight of the dog matches what is written on the package and read the instructions for use.
* The most effective material today.
* For use in dogs only.
* For use in puppies from the age of two months.