Shopping Cart
You have no items in your shopping cart.
CIBAU Small Breed Adult 3 kg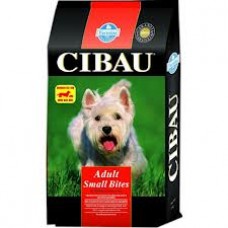 Модель:
8100
Наличие:
Есть в наличии
Цена:
₪79.00
Без НДС: ₪79.00
Complete, balanced food formulated for small adult dogs.
Cibau Adult Small Bites is a complete food for small adult dogs with normal levels of physical activity. Cibau Adult Small Bites consist of small kibbles for easier chewing and contains all the best possible ingredients to offer your dog a complete and balanced diet. Chicken to guarantee top quality protein intake; rice and maize for energy in the form of carbohydrates; beetroot pulp as the source of noble fibres to favour correct intestinal movement; chicken fat to make the product particularly appetising and also provide a good source of energy; fish oil and vegetable oil guarantee a perfect balance of fatty acids (omega-3 and omega-6); brewer's yeast to help improve intestinal activity and rich in vitamins B and D. Cibau Adult Small Bites contains vitamins and other elements for a correct and balanced diet.

Ingredients
Dehydrated chicken meat (32%), rice (25%), corn (23%), chicken fat (7%), dehydrated fish, dried beetroot pulp (4%), fish oil (2%), vegetable oil (1%), sodium chloride, dried brewer's yeast (0,3%).