Shopping Cart
You have no items in your shopping cart.
Kosher for Passover - Bonzo Dry Food 4 Kilogram Meat Flavored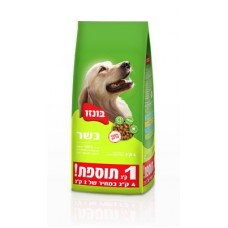 Производитель:
בונזו
Модель:
15144
Наличие:
Есть в наличии
Цена:
₪89.00
Без НДС: ₪89.00
PASSOVER KOSHER - RABANOUT HADERA - With Te'oda - Rabbi Haim Zaretzki
Our clients enjoy storing their Chametz food bags with us, we will sell it, and you can recuperate it after the Chag
contains 100% of the vitamins and minerals daily recommended intake for adult dogs.
Bonzo meat is wholesome, balanced and very tasty meat that was developed by a committee of veterans on the basis of scientific researches.
It is in accordance with the American Standard for Dog Food (A.A.F.C.O.).
Therefore, when you give your dog Bonzo you can be sure that your dog is receiving its daily nutrition that accommodates all his nutritious needs.
Contains:
22% Protein- to build and strengthen muscle mass.
Without preservatives and food coloring!
Contains flaxseeds help promote a rich, shiny fur and healthy skin.
Enriched with fiber that helps the digestive system.
Food Storage:
To protect the food's freshness, it is recommended to store the closed package in a cool and dry place.
Adult males need a meal or two a day, regular eating hours are advised.
It is important to make sure that a bowl with clean and fresh water will be set out day and night, next to the dry food.
When replacing different foods with Bonzo meat, the change must be gradually (spread out for 1 week).
Ingredients:
Whole corn grain, chicken flour, whole wheat grain, animal fat, Rmolaz' (source of fiber, DDGS, corn gluten, whole rice grains, natural flavorings, minerals and Trace elements, flaxseed, vitamins, antioxidants, BHT.