Shopping Cart
You have no items in your shopping cart.
EUKANUBA Restricted Calorie 12 kg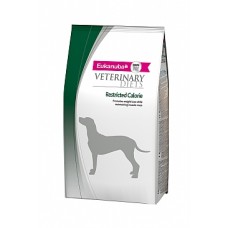 Производитель:
EUKANUBA
Модель:
7589015
Наличие:
Есть в наличии
Цена:
₪329.00
Без НДС: ₪329.00
Restricted calorie food for dogs to encourage weight loss. Suitable for all breeds.
Eukanuba Restricted Calorie Dog is formulated to help your dog safely reach and maintain their optimal weight, promoting entire body health and helping to restore energy and mobility. How? These products use patented carbohydrates and specialized ingredients such as L-Carnitine, so your pet can feel full while consuming fewer calories. The result is that your dog can maintain muscle mass while losing fat.

Feeding Eukanuba Veterinary Diets Restricted-Calorie™ formula is a great way to achieve the appropriate weight. This formula utilizes the Eukanuba Optimum Body Approach™ for trimming fat and maintaining muscle, and promotes gradual, sensible weight-loss. Restricted-Calorie™ is the ideal weight-loss formula for obese dogs or cats and should be used in combination with behavioural management and, where appropriate, an increase in physical activity. Individual target weight is determined depending on pet and breed. When dieting, the optimal weight loss is 1 to 3% weekly. For best results both diet and a sensible exercise regime should be established.

With Eukanuba Optimum Body Approach™, you can -
Trim fat but retain muscle mass to keep your pet in peak playing condition with ingredients L-Carnitine and Chromium Tripicolinate
Satisfy your pet's hunger and help maintain steady blood sugar levels with a carbohydrate blend of grain sorghum and corn (cat) or barley (dog)
Help increase resistance to weigh gain
Promote good dental health during and after meals with the Eukanuba Dental Defence System™, a tartar-reducing system that benefits the whole mouth - not just chewing surfaces.
Key Benefits
Low energy - Weight loss by reducing caloric intake
Low fibre level - Optimal digestion, good stool quality, and low stool volume
L-carnitine - Stimulates ß-oxidation and reduction of body fat, while preserving lean muscle tissue
Carbohydrate blend (barley and sorghum) - Helps reduce the postprandial blood glucose surge
Glucosamine and chondroitin sulphate * - Support healthy cartilage production, joint health and mobility.
Ingredients
Eukanuba Veterinary Diets Canine Restricted Calorie Dry - Maize grits, Dried Chicken and Turkey, maize, sorghum, barley, dried beet pulp, chicken digest, fish meal, dried whole egg, animal fat, brewer's dried yeast, potassium chloride, sodium hexametaphosphate, fructooligosaccharides, linseed, glucosamine (475mg/kg), chondroitin sulphate (45mg/kg)
Eukanuba Veterinary Diets Canine Restricted Calorie Cans- Chicken, white fish, chicken liver, rice, maize grits,
chicken byproducts, beef by-products, fish meal, dried whole egg, dried beet pulp, potassium chloride, linseed, calcium carbonate, monosodium phosphate, sodium chloridea