Shopping Cart
You have no items in your shopping cart.
EUKANUBA Joint Mobility 12 kg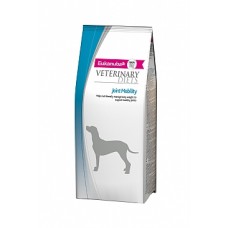 Производитель:
EUKANUBA
Модель:
54715901
Наличие:
Есть в наличии
Цена:
₪329.00
Без НДС: ₪329.00
Eukanuba Joint Mobility Dog is formulated to help delay aging progression of such joint issues. Nutrition is one vital component of that regimen. This formula has glucosamine and chondroitin sulphate, to provide the building blocks for healthy cartilage; L-Carnitine to help your dog metabolize fat; and micro-crystals to help reduce tartar build-up across the whole mouth during and after meals.
Eukanuba Veterinary Formulas Joint Mobility contains a blend of ingredients to help support joint health, including:
Key Benefit
Glucosamine and chondroitin sulphate (naturally occurring compounds that aid in the nourishment and maintenance of healthy joint cartilage)
Antioxidants are nutrients that help stabilize cells and support the immune system
A balance of omega-6 and omega-3 fatty acids to help nutritionally manage inflammation. (fatty acids are found in ingredients such as fish, chicken, and corn)
Adjusted Omega-6:Omega-3 fatty acid ratio of 5-10 : 1 and GLA (gamma- linolenic acid) - Reduces the inflammatory response and helps to improve skin and coat condition
Animal proteins and L-Carnitine (vitamin-like compound that helps with fat metabolism) to help support lean, active muscles and healthy joints.
DentalCare System - Reduces tartar build up
L-carnitine and reduced energy level - Advanced weight control system to reduce stress on susceptible joints
Glucosamine and chondroitin sulphate - Support healthy cartilage production, joint health and mobility
Optimal levels of high quality protein - Helps to maintain muscle mass, organ and immune function
Carbohydrate blend (barley and sorghum) - Helps reduce the postprandial blood glucose surge
FOS (fructooligosaccharides) and beet pulp - Promote a healthy intestinal environment

Ingredients

Maize, Dried Chicken and Turkey, wheat, sorghum, barley, fish meal, animal fat, dried beet pulp, dried whole egg, chicken digest, brewer's dried yeast, potassium chloride, sodium chloride, sodium hexametaphosphate, fructooligosaccharides, calcium carbonate, linseed, glucosamine (475mg/kg), marigold extract, chondroitin sulphate (45mg/kg).

Analysis

Protein:27.0%, Fat content:11.0%, Omega-6 fatty acids:1.75%, Omega-3 fatty acids:0.25%, Crude Ash:7.10%, Crude Fibres:2.70%, Moisture:8.00%, Calcium:1.15%, Phosphorus:0.95%
Additives: Vitamin A:70000 IU/kg, Vitamin D3:900 IU/kg, Vitamin E (a-tocopherol):200 mg/kg, L-carnitine:50 mg/kg, ß-carotene:1 mg/kg,
Trace elements:
Iron as Ferrous Sulphate, heptahydrate:220 mg/kg, Zinc as Zinc Oxide:184 mg/kg, Manganese as Manganous Oxide:24 mg/kg, Manganese as Manganous Sulphate, monohydrate:18 mg/kg, Copper as Cupric Sulphate, pentahydrate:14 mg/kg, Iodine as Potassium Iodide:3 mg/kg, Cobalt as Basic Cobaltous Carbonate, monohydrate:0.5 mg/kg.