Shopping Cart
You have no items in your shopping cart.
EUKANUBA Intestinal 5 kg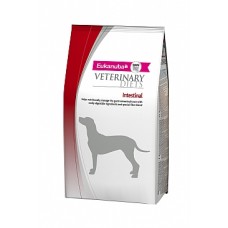 Производитель:
EUKANUBA
Модель:
7184197
Наличие:
Есть в наличии
Цена:
₪199.00
Без НДС: ₪199.00
Purpose of Eukanuba Intestinal Formula:
Gastrointestinal disorders in all breeds of dog.
Product description:
Eukanuba Veterinary Diet Dog Intestinal dog food is specially formulated for the nutritional management of dogs with gastrointestinal disorders. Recommended for dogs with vomiting, diarrhoea, flatulence or constipation as well as in cases of serious bowel or pancreatic disease. Promotes the growth of beneficial intestinal flora and a healthy digestive tract, reduces inflammation, enhances absorption of nutrients, reduces tartar build up and promotes healthy skin and coat.

Eukanuba Veterinary Diet Intestinal dog food is available in both wet and dry varieties.
Indicate:
Acute / chronic gastroenteritis
Inflammatory bowel disease (IBD)
Excessive growth of the bacterial flora of the small intestine (SIBO)
Short-term, nonspecific diarrhea
convalescence
colitis
Improper dietary behavior
Exocrine pancreatic insufficiency
parasitic diseases
Pancreatitis and conditions after pancreatitis
hyperlipidaemia
Enlargement of the lymph spaces of the intestinal mucosa (lymphangiectasia)
enteropathy biatkogubne
constipation
Impaired absorption / digestion impaired
Contraindications:
growth phase
pregnancy
lactation
Before using this food is recommended to consult a veterinarian.
The recommended duration of use:
from 3 to 12 weeks for the symptoms of poor digestion
with chronic pancreatic insufficiency - all dogs life
1-2 weeks for severe malabsorption
1-2 weeks in order to normalize the metabolism of fats
to 2 months in case of use the food for the first time
Product ingredients
Maize grits,
chicken meal,
rice flour,
chicken,
dried beet pulp,
chicken digest,
animal fat,
fish meal,
dried whole egg,
brewer s dried yeast,
fructo-oligo-saccharides,
potassium chloride,
linseed,
sodium hexametaphosphate,
sodium chloride,
manno-oligo-saccharides,
DL-methionine
Analysis:
protein - 23%,
fat - 10%,
fibre - 1,9%,
ash - 6%,