Shopping Cart
You have no items in your shopping cart.
EUKANUBA Dermatosis FP 12 kg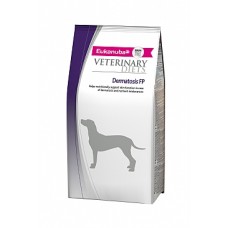 Производитель:
EUKANUBA
Модель:
258910635
Наличие:
Есть в наличии
Цена:
₪329.00
Без НДС: ₪329.00
Eukanuba Dermatosis FP veterinary diet meets the needs of dogs suffering from both food allergies and other inflammatory skin diseases.
Eukanuba Dermatosis Fp/Response is formulated to nutritionally manage your dog's itching, whether from food or environment, in as little as 3 weeks. So whether his sensitivities are coming from food, his environment or both, you can promote a healthy skin and coat through:
Eukanuba Dog Dermatosis FP not only incorporates novel single protein and carbohydrate sources fish and potato for dogs, but also reduces the level of pro-inflammatory mediators.

Eukanuba Dermatosis diet helps keep the patient below the pruritic threshold and improve overall skin and coat condition.
Indications
Food allergy / food intolerance
Flea bite allergy
Atopy
Inflammatory bowel disease
Other inflammatory skin conditions

Dermatosis FP Formula can be used as an exclusion diet to help in the diagnosis of food allergy/intolerance
Contradictions
Allergy to herring or catfish
Allergy to potato

Key Benefits
a balance of omega-6 and omega-3 fatty acids, which are found in ingredients such as canola and fish oil, can nutritionally manage your dog's itching and scratching
Adjusted Omega-6 / Omega-3 fatty acid ratio of 5-10:1 - Reduces the level of circulating inflammatory mediators and improves skin and coat condition
a combination of unique proteins and carbohydrates, which can reduce the risk of a reaction to food
a complete vitamin and mineral package, which restores nutrients to develop a healthy skin and coat
Beet pulp - For a healthy digestive tract and to maintain the integrity of the mucosal barrier
an optimal level of linoleic acid, which is found in high-quality animal-based protein, without enough linoleic acid, your pet may experience a dull/dry coat, hair loss, oily skin and increased susceptibility to skin inflammation.
DentalCare System (dry product only) - Reduces tartar build up
Fish as select protein source potato as select carbohydrate source - To eliminate common food allergens and to reduce the inflammatory response
Ingredients
- Potato, fish meal, animal fat, dried beet pulp (3.9%), fish digest, dicalcium phosphate, calcium carbonate, sodium hexametaphosphate, fructooligosaccharides (0.39%), potassium chloride.
Analysis
- Protein:22.0%, Fat content:15.0%, Omega-6 fatty acids:1.70%, Omega-3 fatty acids:0.60%, Crude Ash:8.00%, Crude Fibres:1.80%, Moisture:8.00%, Calcium:1.15%, Phosphorus:0.85%
Additives: Vitamins:
Vitamin A:12500 IU/kg, Vitamin D3:900 IU/kg, Vitamin E (a-tocopherol):200 mg/kg,
Trace elements:
Iron as Ferrous Sulphate, heptahydrate:273 mg/kg, Zinc as Zinc Oxide:228 mg/kg, Manganese as Manganous Oxide:30 mg/kg, Manganese as Manganous Sulphate, monohydrate:22 mg/kg, Copper as Cupric Sulphate, pentahydrate:17 mg/kg, Iodine as Potassium Iodide:3 mg/kg, Cobalt as Basic Cobaltous Carbonate, monohydrate:0.6 mg/kg.