Shopping Cart
You have no items in your shopping cart.
EUKANUBA Daily Care Sensitive Joints 12 kg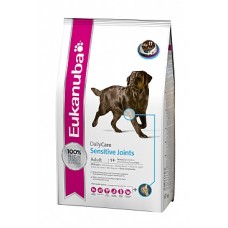 Производитель:
EUKANUBA
Модель:
8521401
Наличие:
Есть в наличии
Цена:
₪320.00
Без НДС: ₪320.00
Eukanuba Daily Care Sensitive Joints is a complete and balanced everyday diet for dogs with predisposition to stiff joints. With Vital Health Formula and FOS prebiotics.
Excess weight can affect your dog's joints. Eukanuba Daily Care Sensitive Joints is a custom-made diet which helps your dog to maintain a healthy weight. It also helps the body to heal itself.
The balanced ratio of nutrients provides the optimal daily amount of protein, fats and carbohydrates for a healthy, happy dog.
Eukanuba Daily Care Sensitive Joints at a glance:
The right ratio of nutrients for dogs with sensitive joints
Enriched with valuable FOS prebiotics and essential antioxidants (vitamin A, C, E and carotenoids) for a healthy immune system and natural regeneration of healthy cells.
Contains essential omega-3 and omega-6 fatty acids, minerals and vitamins for healthy skin and shiny fur
Regular exercise and top quality animal protein will help your dog to have a sleek, muscular figure. L-carnitine improves the rate at which fat is burned.
Easy-to-digest proteins and beet fibre aid the absorption of nutrients and encourage a healthy digestion
Valuable calcium and a good balance of nutrients help to support healthy bones and joints
The DentalCare-System removes plaque from your dog's teeth while it is chewing and special minerals (polyphosphate) reduce the build-up of tartar
Contains no artificial colours, aromas or preservatives
Ingredients:
Dried chicken & turkey (> 22%), corn, wheat, sorghum, animal fat, barley, dried beet pulp (> 2.5%), dried whole egg, potassium chloride, calcium carbonate, fish oil, sodium chloride, linseed, sodium, glucosamine hydrochloride (375 mg/kg), chondroitin sulfate (35 mg/kg).
Additives:
Vitamins: vitamin A (12,000 IU/kg), vitamin D3 (900 IU/kg), vitamin E (200 mg/kg), beta-carotin (1 mg/kg), L-carnitin (50 mg/kg).
Trace elements: iron [iron sulphate-heptahydrate] (194 mg/kg), zinc [zinc oxide] (162 mg/kg), manganese [manganese oxide] (22 mg/kg), manganese [manganese sulphate-monohydrate] (16 mg/kg), copper [copper sulphate-pentahydrate] (12 mg/kg), iodine [potassium iodate] (2 mg/kg), cobalt [basic cobalt carbonate-monohydrate] (0.4 mg/kg).
Analytical constituents:

ash
6.6 %
fat
13.0 %
phosphorus
0.88 %
protein
23.0 %
moisture
8.0 %
calcium
1.1 %
fiber
2.7 %
food energy
3545.0 kcal/kg