Shopping Cart
You have no items in your shopping cart.
EUKANUBA Small-Medium (1-25kg) Senior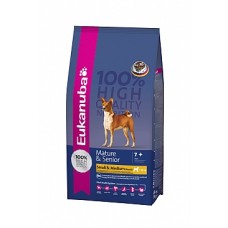 Производитель:
EUKANUBA
Модель:
89215
Наличие:
Есть в наличии
Цена:
₪329.00
Без НДС: ₪329.00
Dry dog food for older dogs of small and medium breeds (up to 25 kg) starting at 7 years old. With the Vital Health Recipe.
Eukanuba Mature & Senior for Small and Medium Breeds is a well-balanced complete diet for adult dogs (small & medium breeds up to 25 kg) starting at 7 years old. The specially coordinated nutritional balance ensures that your dog will receive the optimal care for his age. You'll be able to recognize how healthy he is!
With Eukanuba Mature & Senior, your dog receives a premium diet that supports his life long health.
Eukanuba Small & Medium Breed for Mature & Senior dogs at a glance:
Meets daily nutritional and energy requirements
Maintains a stable and healthy immune system
Promotes clean, healthy skin and a soft, shiny coat
No artificial colours, flavours/aroma, or preservatives
Ingredients:
Dried Chicken and Turkey (>20%, a natural source of glucosamine and chondroitin sulphate), maize, wheat, sorghum, barley, animal fat, dried beet pulp (>2.5%), chicken digest, dried whole egg, brewer's dried yeast, potassium chloride, sodium chloride, fish oil, sodium hexametaphosphate, fructooligosaccharides (0.40%), calcium carbonate, linseed, borage oil, marigold extract.
Additives:
Vitamins: vitamin A (14,000 IU/kg), vitamin D3 (750 IU/kg), vitamin E (200 mg/kg), beta-carotin (1 mg/kg), L-carnitin (50 mg/kg).
Trace elements: iron [iron sulphate-heptahydrate] (187 mg/kg), zinc [zinc oxide] (156 mg/kg), manganese [manganese oxide] (21 mg/kg), manganese [manganese sulphate-monohydrate] (15 mg/kg), copper [copper sulphate-pentahydrate] (12 mg/kg), iodine [potassium iodate] (2 mg/kg), cobalt [basic cobalt carbonate-monohydrate] (0.4 mg/kg).