Shopping Cart
You have no items in your shopping cart.
EUKANUBA Medium Breed (10-25kg) Adult 3 Kg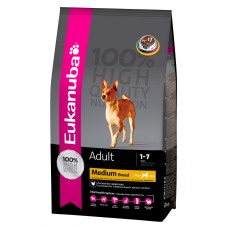 Производитель:
EUKANUBA
Модель:
1122003000
Наличие:
In Stock
Цена:
₪99.00
Без НДС: ₪99.00
Adult Medium Breed Maintenance, plus extra gift from pet shop express get pretty teddy bear free of charge. 100% complete and balanced nutrition for medium breed adult dogs with an average activity level and normal weight.
Eukanuba provides the optimal daily amount of protein, fat, carbohydrates, important vitamins and minerals for the health and well-being of your dog. Contains high-quality ingredients and high levels of animal-based protein.
Product features
Dental Care (Tartar): Promotes healthy teeth by reducing tartar build-up Crunchy kibbles help remove plaque and a special combination of minerals helps keep tartar-forming materials from depositing on the teeth
ImmunoHealth: Supports the immune system and promotes the daily, natural regeneration of healthy cells. Contains important antioxidants, such as vitamin E
CoatCare: Promotes a thick and shiny coat, supports healthy skin and the natural healing process Contains an optimal balance of Omega-6 and Omega-3 fatty acids
DigestiCare: Promotes a healthy digestive tract and effective nutrient absorption Contains a moderately fermentable fibre (beet pulp)
GlucoseBalance: Helps nutritionally manage normal blood sugar levels after meals Contains special carbohydrate sources
Product ingredients
Chicken (>24%),
maize,
wheat,
animal fat,
sorghum,
barley,
poultry meal,
dried beet pulp,
chicken digest,
dried whole egg,
brewer's dried yeast,
potassium chloride,
salt,
sodium hexametaphosphate,
fish oil,
linseed,
DL-methionine.
Analysis:
Crude Protein:26.0%,
Crude Oil:15.0%,
Crude Ash:7.5%,
Crude Fibre:2.5%,
Moisture:8.0%,
Calcium:1.20%,
Phosphorus P:0.95%
Additives per kg:
Vitamin A:12000 IU,
Vitamin D3:750 IU,
Vitamin E (à-tocopherol):200 mg,
Copper as Copper II Sulphate:25 mg,
ß-carotene:1 mg.
No colourants or preservatives added.