Shopping Cart
You have no items in your shopping cart.
Let's Bite Dog Treat Chicken Sandwich 80 gr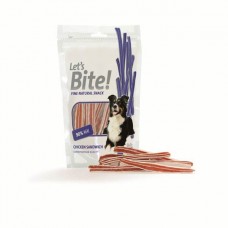 Модель:
4575
Наличие:
Есть в наличии
Цена:
₪19.00
Без НДС: ₪19.00
Treat your four legged friend to some Lets Bite Dog Treats. These 100% natural meat treats each provide another benefit that will help to keep your pet healthy. Perfect for rewarding good behaviour.
Let's Bite Chicken Sandwich
100% Natural meat snack for dogs. With fatty acids for shiny fair