Shopping Cart
You have no items in your shopping cart.
GROOMER'S BLEND Shed Defense Shampoo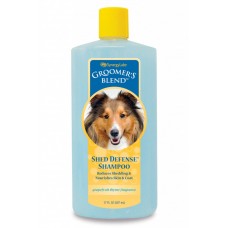 Цена:
₪55.00
Без НДС: ₪55.00
Reduces shedding & nourishes skin & coat. This antioxidant formula has an appealing grapefruit thyme fragrance. Rich in essential fatty acids, moisturizers and antioxidants, Shed Relief Shampoo has been formulated to reduce excessive shedding, dander & allergens. With ingredients including Kukui Nut Oil, Wheat Germ Oil, Vitamins A, D & E, Alpha Hydroxy Acid, and Nettle Extract, skin and coat are infused with Omega fatty acids, emollients and antioxidants. Protects skin and leaves coat soft and smooth. Safe for dogs and cats over 12 weeks.