Shopping Cart
You have no items in your shopping cart.
GOOD FOOD All Breeds Puppy 3 kg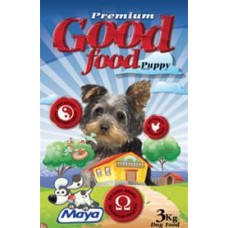 Производитель:
GOOD FOOD
Модель:
292235
Наличие:
Есть в наличии
Цена:
₪59.00
Без НДС: ₪59.00
Good Food Puppy is premium dog food suitable for all breeds of dogs. Contains Omega-3 and Omega-6 to contribute to protecting and strengthening the immune system of the dog.
Ingredients: Chicken meal, corn, wheat, rice, corn gluten, fish meal, yeast, oil, poultry, fish oil,
Natural Flavoring, Yucca, Alpha - sorting, vitamins, minerals, organic acids, material that prevents oxidation.
Contains:
Protein 30%
Fat 14%
Cellulose 3%
Calcium 1.6%
Phosphorus 1.2%
0.4% Sodium
Ash 6%
Moisture 8%
Contains Omega 3 and Omega 6, plus alpha - sorting for improving digestion and strengthening the immune system, giving your dog healthy and shiny fur. Based on chicken and rice. There is no need for supplementation.
Perfect for all breeds of puppies (ages 2-12 months), rich in all the nutrients required for normal development. Modern technology produced the perfect crunchy cereal with meat and high quality animal fat, this product provides an excellent aroma and taste and ensures effective and easy digestion.