Shopping Cart
You have no items in your shopping cart.
EUKANUBA Renal 12 kg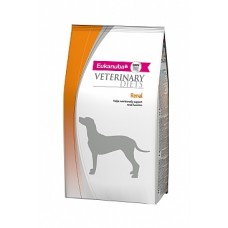 Производитель:
EUKANUBA
Модель:
39585291
Наличие:
Есть в наличии
Цена:
₪339.00
Без НДС: ₪339.00
A dietetic complete pet food for dogs, intended for the support of renal function in case of chronic renal insufficiency. Renal contains a restricted amount of high quality protein and low phosphorus.
It is recommended that a veterinarian's opinion be sought before use or before extending the period of use. Your veterinarian may suggest specific feeding instructions for your dog, or ask you to follow the standard portions shown in the feeding chart.
Recommended time for use: initially up to 6 months. Lifetime feeding is possible under supervision of a veterinarian.
Store in a cool, dry place.
Water should be available at all time for your dog to drink.When feeding for the first time gradually introduce Eukanuba into your dog's diet over a period of 4 days. We recommend feeding your dog twice a day. Divide the daily amount shown in the chart by the number of meals. Your dog may eat more or less depending on age, temperament and activity level
Ingredients
Maize, maize grits, rice, animal fat, fish meal, dried beet pulp, soya protein isolate, dried whole egg, chicken digest, poultry liver meal, fructooligosaccharides, brewer's dried yeast, calcium carbonate, sodium chloride, potassium chloride, linseed.
Analysis
Protein:18.8%, Fat content:13.0%, Omega-6 fatty acids:2.15%, Omega-3 fatty acids:0.35%, Crude Ash:4.70%, Crude Fibres:3.70%, Moisture:8.00%, Calcium:0.70%, Potassium:0.60%, Sodium:0.48%, Phosphorus:0.40%Vitamins:
Vitamin A:5400 IU/kg, Vitamin D3:325 IU/kg, Vitamin E (a-tocopherol):100 mg/kg,
Trace elements:
Iron as Ferrous Sulphate, heptahydrate:234 mg/kg, Zinc as Zinc Oxide:195 mg/kg, Manganese as Manganous Oxide:26 mg/kg, Manganese as Manganous Sulphate, monohydrate:19 mg/kg, Copper as Cupric Sulphate, pentahydrate:15 mg/kg, Iodine as Potassium Iodide:3 mg/kg, Cobalt as Basic Cobaltous Carbonate, monohydrate:0.5 mg/kg