Shopping Cart
You have no items in your shopping cart.
EUKANUBA Daily Care Sensitive Digestion 12 kg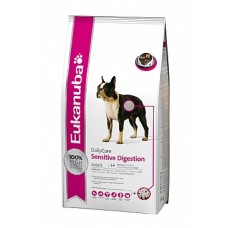 Производитель:
EUKANUBA
Модель:
47191590
Наличие:
Есть в наличии
Цена:
₪320.00
Без НДС: ₪320.00
Eukanuba Daily Care Sensitive Digestion is a complete and balanced diet for dogs with sensitive digestion. Supports a healthy digestive system. With Vital Health Formula and FOS prebiotics.
Eukanuba Special Care Sensitive Digestion helps sensitive dogs with an easier and less sensitive digestion. A healthy digestive system is important for the wellness and health of your dog. Eukanuba Special Care Sensitive Digestion also supports the natural self-healing powers of the body.
Eukanuba Special Care Sensitive Digestion has a special composition:
Natural and prebiotic fibers, so-called fructo-oligosaccharides (FOS), feed the healthy intestinal bacteria to make the digestive system less sensitive
Beet fibers, an excellent source of natural fiber, help keep your pet''s digestive system healthy
Easy to digest ingredients are gentle on the digestive system
Ingredients:
Dried chicken & turkey (> 20%), rice (20%), maize, sorghum flour, animal fat, dried beet pulp (> 2.5%), fish meal, dried whole egg, fructooligosaccharides (0.8%), dicalcium phosphate, potassium chloride, sodium chloride, sodium hexametaphosphate, fish oil, calcium carbonate, linseed.
Additives:
Vitamins: vitamin A (12,000 IU/kg), vitamin D3 (900 IU/kg), vitamin E (200 mg/kg), beta-carotin (1 mg/kg).
Trace elements: iron [iron sulphate-heptahydrate] (194 mg/kg), zinc [zinc oxide] (162 mg/kg), manganese [manganese oxide] (22 mg/kg), manganese [manganese sulphate-monohydrate] (16 mg/kg), copper [copper sulphate-pentahydrate] (12 mg/kg), iodine [iodine as potassium iodate] (2 mg/kg), cobalt [basic cobalt carbonate-monohydrate] (0.4 mg/kg).
Analytical constituents:

calcium
1.2 %
food energy
3580.0 kcal/kg
omega-6 fats
2.0 %
omega-3 fats
0.3 %
phosphorus
0.96 %
protein
23.0 %
ash
6.6 %
fat
13.0 %
fiber
1.53 %
moisture
8.0 %