Shopping Cart
You have no items in your shopping cart.
TropiClean Fresh Breath Teeth Gel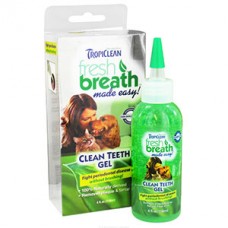 Модель:
84567
Наличие:
Есть в наличии
Цена:
₪79.00
Без НДС: ₪79.00
Does your pup make you shudder when he licks your face? Does your kitty carry that cat food perfume when she fluffs against your cheek? We recommend TropiClean's FreshBreath Clean Teeth Gel - it's a blend of natural ingredients that kills the germs which cause bad breath, plaque and gingivitis. No more trying to brush your pet's teeth, or trips to the vet to get them cleaned!