Shopping Cart
You have no items in your shopping cart.
Treat for Budgies - Honey Flavored Vitapol 45 gr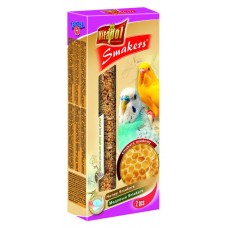 Модель:
6100
Наличие:
Есть в наличии
Цена:
₪22.00
Без НДС: ₪22.00
Vitapol Budgie Sticks - Honey flavour are a naturally healthy treat bar, made
especially with your pet Budgie in mind. Your bird will find fun and excitement
with these tasty egg flavour treat sticks. Baked, to makes them crumble-free
ensuring minimum waste.

Suitable for:

Budgie, Lovebird etc.