Shopping Cart
You have no items in your shopping cart.
Let's Bite Dog Treat Duck Breast 80 gr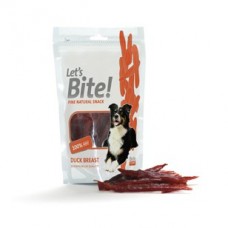 Модель:
4585
Наличие:
Есть в наличии
Цена:
₪19.00
Без НДС: ₪19.00
Enriched with Vitamin A and Vitamin B2.
For your info
Brit Care Let's Bite is a healthy super premium snack for dogs. High meat content (90-100 %) guarantees high digestibility and does not burden the dog's digestive system. A varied range of types and palatability will meet even the most demanding dog gourments. Ideal as a snack for training and dressage.
Ingredients
100% Meat.